Hapa Coal Harbour was pleased to host Vancouver's finest Elites to say Sayonara Spring, Hapa to Yelp You, Summer this past Monday, July 16.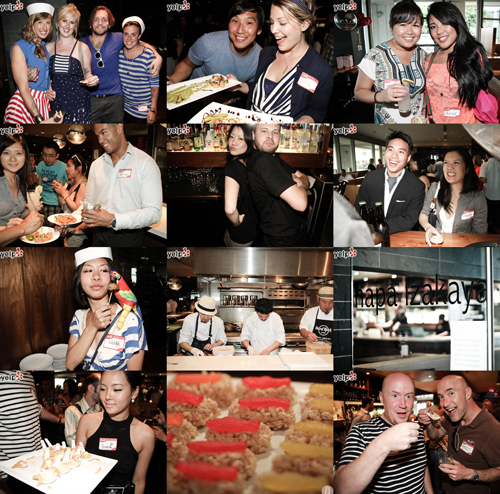 Over 150 of Yelp's Elites enjoyed a party flowing with Hapa's signature Japanese tapas, refreshing Driftwood Beers, Diamond and Gokujo sake, and Absolut Elyx and great beats by Hapa's resident DJ She.
"Taking the opportunity to host an event like this is a wonderful way to develop an even deeper connection and familiarity with the local community. It's really great to see the interaction and "humanity" brought into the whole experience." – Jade Pover, Marketing Manager for Hapa Izakaya.
Everyone on the Hapa Team would like to extend thanks to Yelp, Bluenote Wines, Driftwood Brewing Company, Absolut and all the Yelpers for joining us to celebrate the arrival of Summer!
Reviews that made us blush:
"Sayonara Spring was a fresh welcome to a highly anticipated summer. Beautiful weather, beautiful location, and delicious eats made this event even more memorable" Michael P.
"Plentiful and mouthwatering edibles were served armada style, dish after succulent dish flowing through the beautiful Hapa room effortlessly by the gorgeous Hapa staff.  Libations were flowing over with goodness and not one attendee was for lack" Gary M.
"Hapa did a fantastic job catering to us, they worked SO HARD passing around the food and mixing up drinks (big tips to our bartender!! You're awesome!)" Theresa W.
"The food was spectacular! I wanted more" Dru C.
"I will be making this Hapa my go to Hapa now" Steven S.
"The staff were wonderful at Hapa, always smiling, having a good time, and make sure that the food rocked." Vincent N.
"PHE-NO-ME-NAL!!!" Kwoky L.
"The service was amazing. These guys did not stop coming around. I wish I could have gone around and tipped every single person because they were all bustin' their asses both behind the bar and on the floor, as well as in the kitchen. They sincerely took care of us — in fact — maybe better than even restaurant-hosted other Elite events. I have to give them props for that." Meana K.
"Seriously? Did that just happen? Wow." Mark H.
For full coverage of this event, please click here!