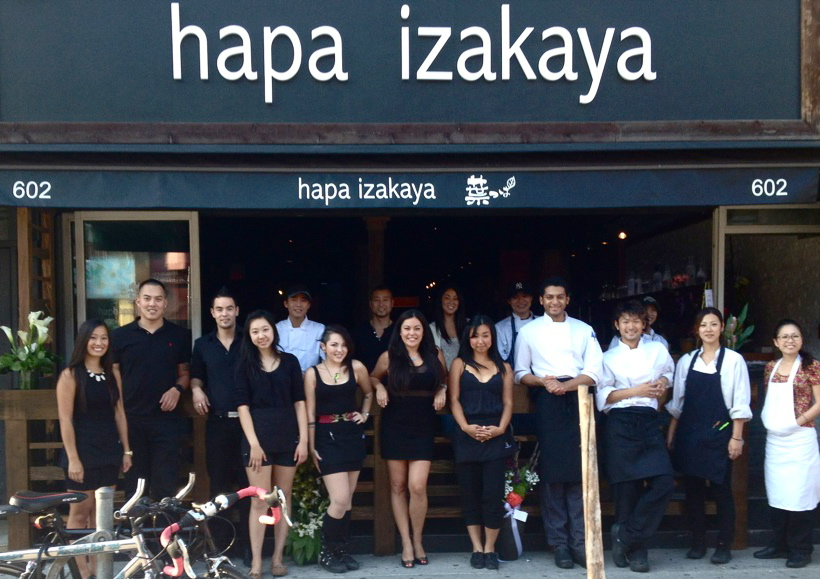 (Toronto, ON) September 12, 2012 – Hapa Izakaya's newest location is now open, at 602 College Street.
The highly anticipated restaurant opened its doors on Thursday, September 6th. Hapa was buzzing with high energy as it welcomed in a full house over the weekend. Hapa proprietor and Toronto partner, Justin Ault, said, "The whole team is very excited to be a part of our first restaurant outside of Vancouver. Our home city has been very good to us since we opened 10 years ago and we look forward to sharing the Hapa experience here. The new restaurant is a welcome addition to the Hapa family. Similar to its Vancouver counterparts, we are confident that with our dedicated and talented team, delicious food, and unique space, Hapa Izakaya Toronto is set to become a popular dining destination."
Designed by Mackay|Wong Strategic Design, the 120-seat restaurant encompasses a large bar, lounge, and in warmer months, a cozy 10-seat patio. This sleek and modern room is outfitted with stone, raw timber, granite finishes, and soft leather seating overlooking vibrant College Street. One guest took to Twitter to exclaim, "…Hapa Izakaya interior on College looks the same as interior on Robson St YVR – pinch me!"
Sibling dream team – General Manager, Maaji Isobe, Bar Manager, Mackenzie Isobe and Manager, Jiena Isobe, journeyed from Hapa Robson in Vancouver, where they got their start eight years ago. With that experience and passion, they have made their dreams of opening a Hapa in Toronto a reality. The Isobes are joined by chef Koichi Fujioka from Hapa Robson and chef Takayuki Sato from Hapa Kitsilano, along with partners Toby Tseung and Sy Baek (Jiena's husband).
The Toronto menu offers all of the Hapa favourites, from satisfying Ishi-Yaki (ground pork, tomato, chive, lettuce and egg in a hot stone bowl), to Vancouver's original Ebi Mayo (Tempura prawn, spicy mayo sauce), as well as many sustainable seafood dishes, such as Sashi Mori (daily selection of fresh sashimi). Like each location in Vancouver, Hapa Izakaya Toronto will feature a daily fresh sheet, allowing chefs Koichi and Taka, the ability to create their own dishes and, whenever possible, use local and seasonal ingredients.
Join Hapa Izakaya Toronto daily, from 5:30pm till late, and experience sparkling cocktails, extensive sake offerings and Japanese dishes ranging from simple to complex, traditional to challenging, and always delicious.
For reservations, please phone 647.748.4272.
For more information, please visit HapaIzakaya.com or follow @HapaIzakayaTO on Twitter.
About Hapa Izakaya
Lea and Justin Ault introduced Hapa in 2003 they exploded the izakaya concept in Vancouver, setting the bar high for the host of contenders that followed.
Voted "Top Five Izakayas In North America" by Bon Appétit Magazine in 2011; topping "Industry and Readers Choice" 2012 awards for Best Japanese and Best Izakaya in the Georgia Straight weekly: and "Best Casual Chain, Silver" by Vancouver Magazine in 2012, Hapa continues to bring the Tokyo-style izakaya experience with its inherent emphasis on food, fun, culture, and local seasonal ingredients.
In 2010, Hapa was the first izakaya to join the Vancouver Aquarium's Ocean Wise™ seafood conservation program and one of only a handful of Japanese restaurant partners in the program to date.
To view images of Hapa Izakaya Toronto, click here!