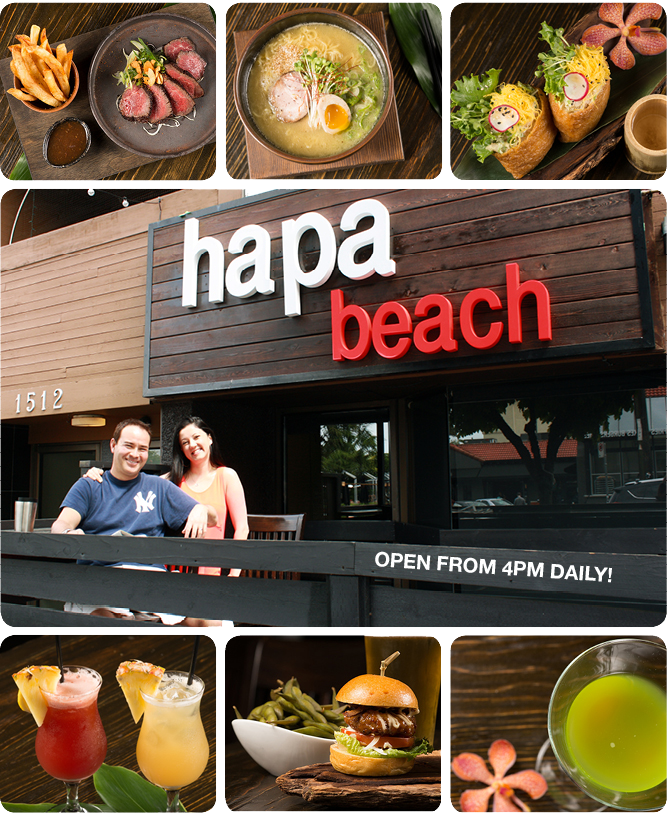 (VANCOUVER, BC)  MAY 13, 2014 – Justin and Lea Ault are excited to introduce the launch of "Hapa Beach" – a new take on their 95-seat restaurant steps away from Kitsilano Beach, at 1516 Yew Street (off Cornwall).
Inspired by the West Coast's beloved Kitsilano shores, the menu introduces a laid back approach to modern Japanese dining, while retaining familiar Hapa classics, such as Vancouver's original Ebi Mayo, ishiyaki rice bowls, and premium Ocean Wise sushi.
Beach Bites varying from juicy Kobe Beef Sliders to sizzling Teppan Steak-Frites and addictive prosciutto-wrapped Pineapple Tempura (priced between $6 and $12), can be enjoyed from the 25-seat patio or taken out for a picnic on the beach. Hapa's chefs are also very excited to add to the menu, bowls of rich chashu ramen, destined to become one of Vancouver's best!
Hapa Beach will also be pouring refreshing new cocktails, reminiscent of a hot summer's eve – such as Lime Daiquiris, Sunset Raspberry Lemonades, Japanese Slippers, Shiso Mojitos, and Strawberry Sake Margaritas, as well as a variety of local and imported beers (priced from $3 to $6) and ($7) wines.
UPDATE: Kits locals will be happy to hear Hapa Beach's Fall hours are now in effect, open daily from 5:30pm. Hapa Hour has now shifted forward to 5:30pm to 6:30pm daily.
View the new menu here.
We look forward to seeing you all. Surf's up!
ABOUT HAPA
Voted "Top Five Izakayas In North America" by Bon Appétit Magazine; topping "Industry and Readers Choice" Georgia Straight awards for Best Japanese in 2012 and Best Izakaya in 2013; and "Best Casual Chain, Bronze" by Vancouver Magazine in 2014, Hapa continues to offer a winning combination of Japanese cuisine, fun, and culture, paired with local seasonal and Ocean Wise ™ ingredients.