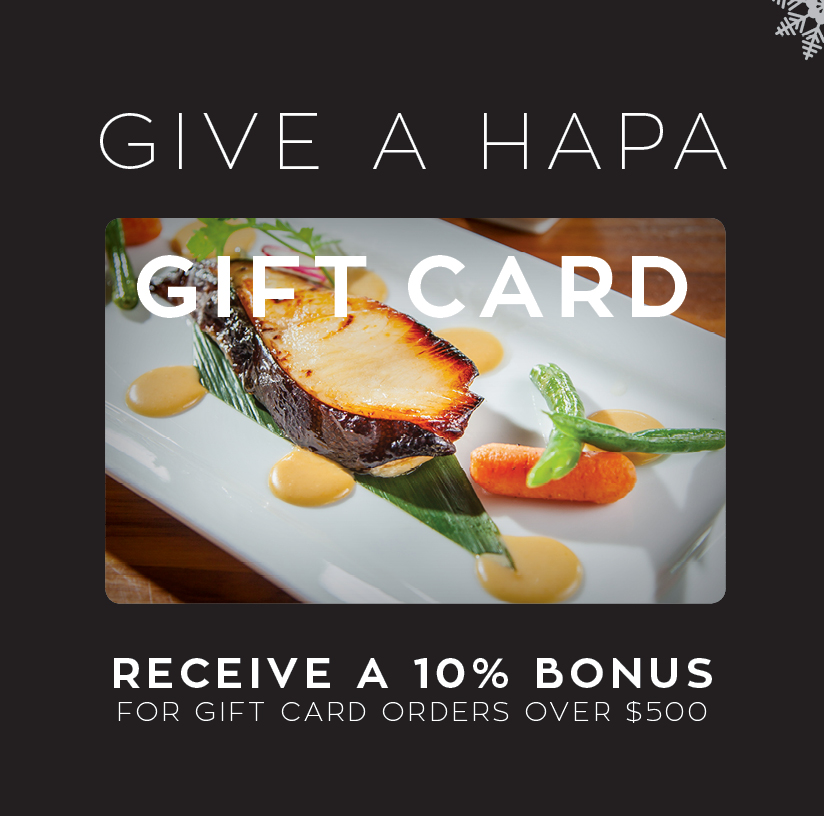 Available for purchase online or in store.
*GIFT CARDS ARE ONLY AVAILABLE FOR PURCHASE AND USE FOR VANCOUVER LOCATIONS. NOT AVAILABLE FOR PURCHASE OR USE AT HAPA CALGARY OR HAPA TORONTO.
10% BONUS
When you order $500 or more, Hapa will include a 10% bonus in gift cards to you.
Our cards never expire and can be used at Hapa Izakaya Vancouver locations.
SHIPPING
Gift Card orders are processed Monday through Friday (excluding holidays). Orders received after 2pm Eastern time will be processed the next business day. Saturday delivery is not available.
Holiday Ordering Deadline: To receive your order by December 24th, please place your order by 1pm EST Monday, December 17th for Registered Mail shipping.
Hapa Izakaya does not guarantee the safe or timely arrival of gift cards delivered by Regular Mail and shall have no liability whatsoever to customers who select Regular Mail delivery (including, without limitation, as a result of damage to or loss of gift cards).
TERMS & CONDITIONS
Hapa Gift Cards can be used to make purchases at any Hapa Izakaya locations in Vancouver. The card dollar value will be applied to the cardholders purchase. The card balance is redeemable for food, beverages and gratuity only at Hapa Izakaya locations in Vancouver, and will not be exchanged for cash or applied as payment to a credit card account. Hapa is not responsible for unauthorized use of the card, or lost or stolen cards. Issuance and use of this card constitutes acceptance of these terms. Purchased gift card balances do not expire.